10 Compelling Reasons to Nearshore IT Services to Turkey with NSTR Network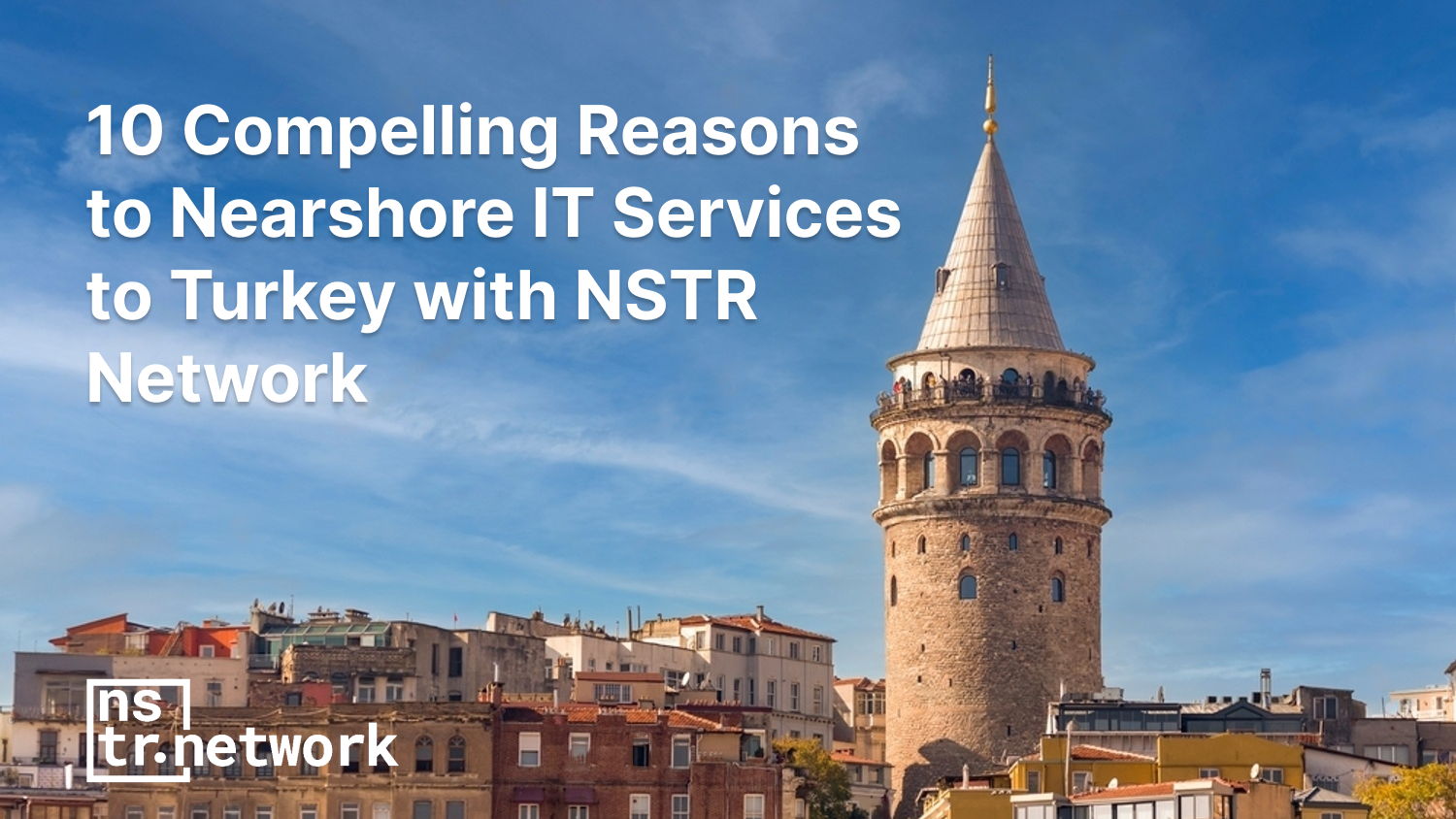 As businesses increasingly rely on technology to stay competitive and meet customer demands, finding the right IT talent and resources is more important than ever. Nearshoring IT services to Turkey with NSTR Network provides a cost-effective solution for businesses looking to access top-tier talent, without sacrificing quality or efficiency. With a large pool of skilled professionals, a convenient time zone, and a growing IT industry, Turkey has become a prime destination for businesses seeking to nearshore their IT services. In this blog post, we will explore the top 10 benefits of nearshoring IT services to Turkey with NSTR Network, providing businesses with the insights they need to make informed decisions about their IT outsourcing strategies.
Access to Skilled Professionals: Turkey has a highly-educated and skilled workforce, with over 1 million IT professionals. The country produces 57,000 new IT graduates each year, making it a great source of top IT talent. At NSTR Network, we have a rigorous recruitment process that ensures we only hire the best IT professionals in the industry. We look for professionals with relevant education, experience, and skills, and conduct extensive interviews and tests to ensure they meet our high standards.
Competitive Costs: The cost of living in Turkey is lower than many European countries, which makes developer rates highly competitive. According to the Outsourcing Destination Guide 2021 by the Global Sourcing Association, Turkey is one of the top 10 most cost-competitive locations for IT outsourcing in Europe. This means that businesses can save costs by outsourcing IT services to Turkey, without sacrificing quality.
Convenient Time Zone: Turkey is in the GMT+3 time zone, which is only two hours ahead of Central European Time (CET) and two hours behind Gulf Standard Time (GST). This makes communication and collaboration with European and Middle Eastern businesses more efficient and easier. Teams can work together in real-time, without having to worry about significant time differences.
Transparent and Agile Processes: At NSTR Network, we use Agile project management methodologies and tools, such as Scrum, to ensure that our clients are involved and informed every step of the way. This allows our clients to have complete visibility into the progress of their projects. Additionally, we use transparent processes, such as daily stand-up meetings, to ensure that our clients are always up-to-date.
Tailored Solutions: We work closely with our clients to understand their business needs and requirements. This helps us to provide tailored solutions that are designed to meet those needs, using the latest technologies and tools. We have experience working with clients across a variety of industries, including e-commerce, finance, and healthcare.
Quality of Work: Turkish IT professionals are known for their quality of work, which is on par with European standards. Our professionals undergo rigorous training and education programs to ensure that they are up-to-date with the latest technologies and trends. Additionally, Turkey has a strong IT infrastructure, with high-speed internet and advanced technology parks.
Security and Confidentiality: At NSTR Network, we place a strong emphasis on security and confidentiality. We use state-of-the-art security protocols and tools to ensure that our clients' data is protected at all times. Our staff is trained on security and confidentiality best practices, and we have strict data protection policies in place to ensure that our clients' data is safe and secure.
Flexible Contracts: We offer flexible contracts that are designed to meet the specific needs of our clients. Whether businesses need short-term or long-term IT services, we can provide a contract that fits their needs. Additionally, we offer customized pricing packages that allow our clients to pay for only the services they need.
Growth of IT Industry: The IT industry in Turkey is growing rapidly, with a 19.9% growth rate in 2020, despite the COVID-19 pandemic. This growth is expected to continue in the coming years, as more businesses look to nearshoring IT services to Turkey. This means that there will be more IT talent available in Turkey, providing businesses with a larger pool of skilled professionals to choose from.
Time to Market: Nearshoring IT services to Turkey with NSTR Network can help businesses reduce their time to market for new products and services. Our skilled professionals can deliver quality solutions faster, allowing businesses to launch new products and services more quickly and stay ahead
If you need to augment a team for your software development needs or just outsource a few developers, feel free to contact us and get a free consultation