Turkey: A New Pool for Tech Talent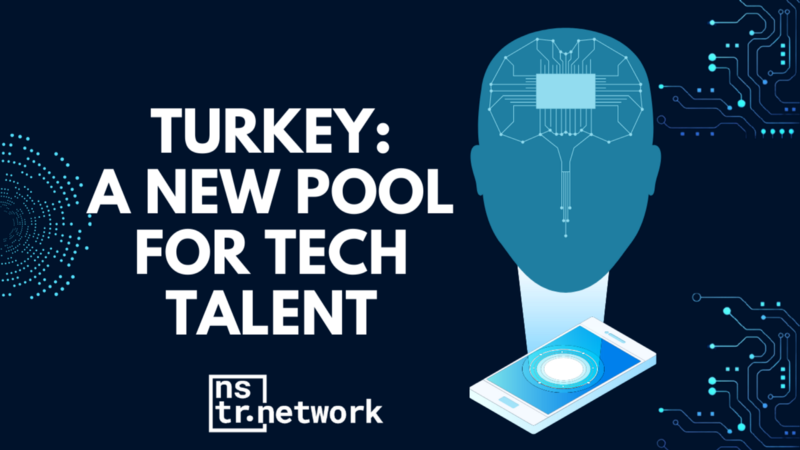 With the outbreak of Covid-19, digital transformation has become the key competitive edge for almost any organization, and in order to get ahead of the game, investing in IT has become nothing but necessary.
Additionally, the way of commuting, employing, incorporating -simply living- shifted up to a new level of remote structures in an instant. And almost 3 years now, tech giants are announcing that they will keep up with "hybrid" and/or "work from basically anywhere" work-style simply to keep their employees. And the need for tech talent is crucial more than ever. A trend has been emerging in hiring leaders to tap into global resources to close the gap in finding, attracting, and hiring tech people.
The good news is according to the market studies published by ReportLinker, it is forecasted that the global IT outsourcing market, which was USD 526.6 billion in 2021, will exceed 680 billion USD by 2027.
Well, although the Covid-19 story is getting old, the after-effects are still emerging in our lives as we examine a shift in outsourcing/nearshoring markets. And if you are in need of building and/or augmenting a software development team, you need to consider Turkey as a first-to-go market.
Compared to the other IT outsourcing markets such as Eastern Europe, Transcaucasia, Asia, and even Latin America, having more than 40 years of experience in the IT industry, a growing number of Unicorns, and ongoing local and global investments in Turkish startups, acceleration hubs, qualified developers with decent education levels market he country a promising IT nearshoring destination.
If you feel missed out, here are some relevant facts we gathered for you to choose Turkey as your second home for your IT needs.
200K+ competent software developers with a continuous growth
Turkey boasts a jaw-dropping number of over 7 million students across more than 200 universities, poised to join the workforce in the coming years. Amongst 120 top-scoring majors 45% are engineering branches. Furthermore, nearly all of them offer a comprehensive English education to accelerate the integration of graduates into global fields.
Turkey is the best in people skills and availability scores in Eastern European countries: ⁻ over 50.000 graduates from 129 States and 75 Private Universities, 727 private IT Centers over 300,000 employees working in the IT sector.
Moreover, boot camps, government programs, mentoring activities, and online education platforms providing tech education programs support developers and the demand for software development.
Furthermore, the Turkish government provides enormous support to the R&D companies to focus more on various tech trends such as AI, big data, blockchain, cloud computing, big data, cybersecurity, and blockchain.
Variety of tech stacks, specialization, and know-how
Following the trends is not only for the fashion industry but also for software developers to be able to deliver world-class products. Knowing that Turkish developers have been following industry trends and Technologies. Although Java, C#, PHP, and .Net are the most common languages used by Turkish developers, they show true interest in learning and using new Technologies such as Ruby on Rails, Node.js, React, React Native, and Laravel in their projects.
Start-up Culture and Bright Minds
While regardless of the number of its employees or revenue, companies with business agility, quick adoption skills, innovative solutions, and products form the start-up culture, thanks to its business climate, Turkey has become one of the leading startups and even unicorns heaven.
In addition to the world-famous companies such as Getir, Trendyol, Hepsiburada, Peak Games, Dream Games; others like Martı, Modanisa, Insider, and Fugo Games will join the league of unicorns in the nearest future.
The investments of both foreign and local investors and venture capital funds in startups have grown by 66% in recent years. Also expected is a steady increase in start-up funding which proves that Turkey is becoming a hot spot for rising startup ecosystems around the world. Thanks to the Turkish startups and scale-ups, developers have room for growth, training, and sharpening their skills.
Cultural similarity and proximity to the Western world
Although remote work settings help global teams connect effectively, many companies consider the time differences and ease of travel. Thanks to its geographical position and cultural similarities Turkey is a preferred partner for European companies.
Also, most of the leading universities teach in English, so the average English Language skill is intermediate and upper-intermediate of an average developer.
As seen on the arc.dev data (arc.dev/salaries) shown below, Turkey has been providing high-quality IT services for relatively cheaper than its competitors in Eastern Europe and Middle Eastern IT outsourcing hubs.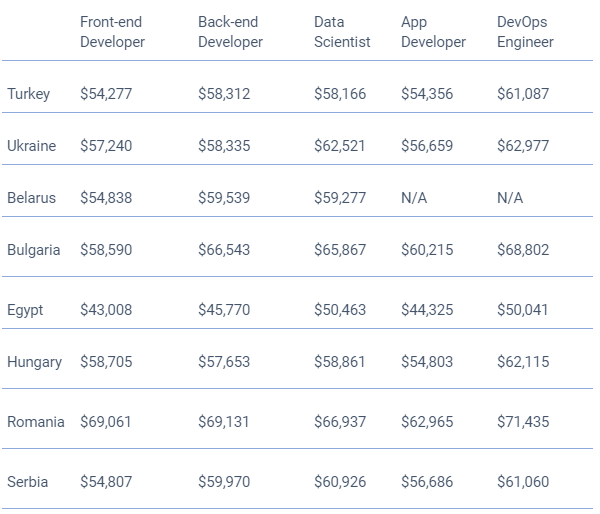 If you need to augment a team for your software development needs or just outsource a few developers, feel free to contact us and get a free consultation