Turkey: The Rising Star of IT Nearshoring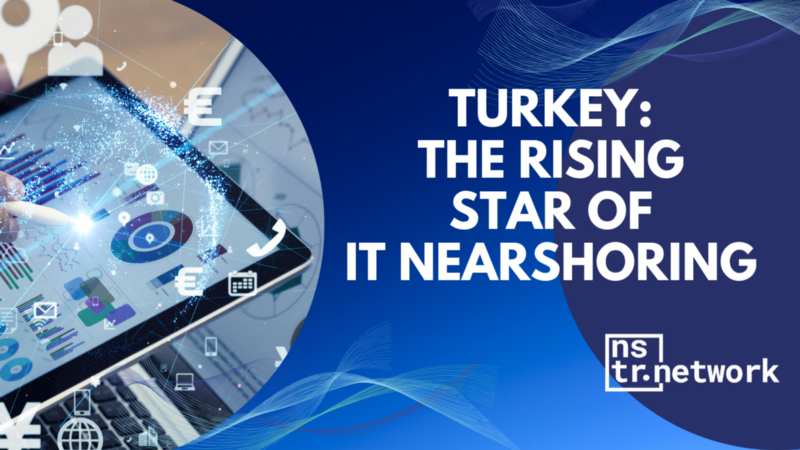 With the skyrocketing ubiquity of applications, and extensions digital transformation is everywhere and the need for IT outsourcing is increasing day by day.
While we are all feeling the post-covid economic effects in the whole World as the inflation rates increase, enterprises are looking for ways to cost resiliency more than ever and prefer IT outsourcing as the viable cost-reducing strategy recently, which also enables them to focus on the vital thing: Their business operations.
IT outsourcing may have business risks such as time differences, long hours of business trips, less control over the project management, security issues, and language barriers. However, in contrast, IT nearshoring — the sub-sector of IT outsourcing- stands out for its strategic advantages. For instance;
Recruitment can take longer due to the scarcity of tech talent, and it can be more complicated than you plan if there is a lack of recruitment expertise for IT roles; when nearshoring your software development team will both be cheaper and quicker.
Rapid changes in technology may make the skill set of your in-house developer teams become obsolete, and difficult to scale up with the demands.
You have the budget and expenses predictable and controlled when outsourcing IT as a service.
What makes a better IT Nearshoring partner?
When allocating your resources to an ITN provider, you need to consider various factors:
The Fit: Do you prefer a specialist or generalist agency? Not every outsourcing company offers the specialty or expertise you may need. Check if their techstack fits your needs.
The Cost: Do you want to buy cheap, buy twice? Nearshoring is for sure a cheaper alternative than in-house or onshore, however, keeping the expertise top priority will save you extra costs.
The Size: What should be the ideal size of your service provider? Do you need a large team or a small one?
The Culture: What is the most important thing in partnership? Which skills and attitudes best fit your organization's culture? As the legendary Management Consultant and Writer Peter Drucker said "Culture eats strategy for breakfast." So both parties should have a similar corporate culture for great achievements.
The recent production crisis in China due to Covid, the war between Ukraine and Russia, and the recent economic crisis after covid pandemic affected many industries such as supply chain, logistics, automotive, and IT industries and at this stage, Turkey has edged ahead with its geopolitical position in line with its advantageous business environment, investment opportunities, skilled labor force.
Particularly in IT nearshoring services, Turkey is becoming the preferred partner by Western Europe due to the cost advantage in comparison to Eastern European countries.
Moreover, the highly skilled IT workforce of Turkey is another competitive advantage for Western European companies' shifting their ITN needs to Turkey. There are almost 160 thousand software developers working in the IT industry and 57 % of them hold a university degree, 30 % are women, 70% of them are younger than 35 and 25% of them are in R&D as stated in the Investing Turkey report published in 2021.
Strong government support in technology and innovation, having 9 universities in the Top 1000; 1 in the Top 500 according to QS World University Rankings in 2021, 1400+ academicians in ICT, 70+ technoparks, investment opportunities, and successful partnerships among local and global companies also lay the groundwork for the brisk demand for ITN services from Turkey.
Being only 1–2 hours ahead of European timezones, proximity to Western Europe and availability of human resources with foreign language skills, especially in English are the other advantages for Western Europe.
If you need to augment a team for your software development needs or just outsource a few developers, feel free to contact us and get a free consultation